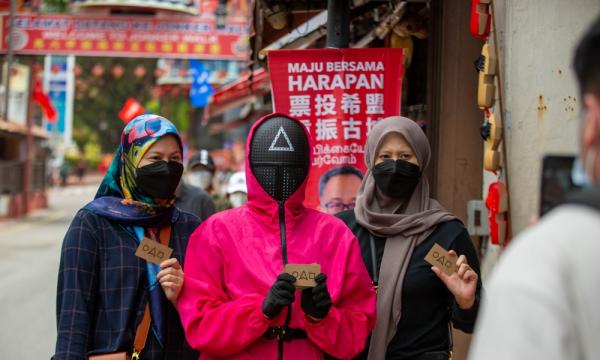 Elections can bring out the best and worst in Malaysian politics for being a cut-throat competition between members of the parliament.
However, this time around, for the Melaka state elections, political campaigners are unsheathing their creative side in order to win the votes.
Due to the massive success of South Korean TV show, Squid Game, DAP Malaysia is integrating a card invitation system seen in the show to incite voters.
Watch it below:
Mantap 👍 pic.twitter.com/3XBH3hEm1T

— KamiKeadiLan (@kamikeadilan) November 15, 2021
Similar to the TV show, the card has shapes on the front and a message at the back. The message reads, "Do you dare to accept this challenge? Together we shall win back Melaka!"
The cards are seen distributed by individuals clad in pink get-ups and a black mask, which are popularised by the show. There is also a QR code on the card that leads scanners to a website that contains…