There were many hoorah moments when it came to this year's sports! Especially in football, with the World Cup and France's win, and the bloom of a new era, saying bye to the Messi and Ronaldo period and the rise of a new legend in tennis with the win of Naomi Osaka, but there is a saying that goes everything looks good on the surface but may not be the case on the inside and with that here are a few moments in sports 2018 that we do not want repeated in the year 2019 and forever.
Larry Nassar sentenced to 40-125 years for sexually abusing gymnasts
The countless amounts of times that a headline reads ' woman raped, abused' is honestly disgraceful, that even at the year 2018, we have allegations and cases and confessions and its truly a tiring battle that just doesn't seem to end. Good riddance, creep. Former Michigan State and USA Gymnastics doctor Larry Nassar was convicted of sexually abusing young women who were under his care. By mid-May, 332 victims came forward with horrific stories about how Nassar took advantage of his position. Michigan State has settled its responsibility in the case with a $500 million agreement. Justice is finally served.
The loss of great legends
I do realise that we as human beings have no control of this unfortunate events of death and certain circumstances, but fingers crossed that 2019 we will not lose too many sports legends. The sports world mourns the loss of 14 junior hockey players on the Humboldt BroncosOn April 6, 2018, a truck barrelled into a bus carrying the Humboldt Broncos youth hockey team in Saskatchewan, Canada. Sixteen people lost their lives in the crash, most of them a part of the team. In the face of tragedy, hockey players, sports fans and good human beings around the world united and raised over $15 million to help the victims.
And not to mention the tragic death of Thai Tycoon and owner of Leicester City, Vichai Srivaddhanaprabha, died in a helicopter crash outside of the club's King Power Stadium following the Foxes' Premier League match. Vichai, 60, and four other people were killed when the helicopter they were traveling in crashed in a car park just outside the stadium shortly after taking off from the pitch.
Remember that moment we all lost complete hope when Mexico beat Germany in a huge upset. Well add Germany is knocked out in the group stage of the World Cup to the list ladies and gents. Germany has been historically invincible in the group stage of the World Cup until this year. It all started horribly with that loss against Mexico. Die Mannschaft then got a last-minute miracle goal against Costa Rica to make things interesting in Group F. All they had to do was beat South Korea. Germany lost 2-0. This is the first time in the team's storied history it was eliminated in the group stage.
Manchester United obviously sent shocked waves too many who don't know the past of Jose Mourinho when he was sacked by the team. With fan favourite Ole Gunnar Solskjaer installed as caretaker manager, Manchester United promptly scored five goals in a match for the first time since Sir Alex Ferguson's final game in charge. Ouch! So what's next for Jose Mourinho? Can't decide if this is actually a loss or a gain for Manchester United.
Racial Issues
I don't even know where to begin, this issue is getting old. We have greater climatic affairs in the world such as poverty, racial abuse shouldn't be a problem. When France won Football's World Cup in July, millions of fans crowded the streets and cheered as star players like Paul Pogba and Kylian Mbappé were honoured at the presidential palace. As in 1998, when a similarly multicultural team delivered France's first world title, commentators quickly hailed the triumph of a "new" and more united France, one that would become more open to diversity, at least in sports. But Kerfalla Sissoko had more troubling thoughts on his mind. A month before the World Cup, Sissoko, 25, an amateur soccer player from Guinea, had been brutally attacked after a fight broke out during a league match near the northeastern city of Strasbourg. Sissoko and several black teammates said later that rival players and fans had directed racist insults at them during the game, but the spark of the brawl hardly mattered to him as he ran for his life. Cornered as he tried to leave the field, Sissoko was threatened by rival supporters including one holding a knife and beaten by players and fans, who broke his cheekbone. Then league officials suspended him for 10 games for provoking the melee."I was so afraid and so disgusted, that I felt like I would never play soccer again," Sissoko said. Even as France's football team boasts having a multicultural squad and a 2018 Word Cup win, racism continues to be a stifling issue that needs to end immediately.
Sexism in Umpire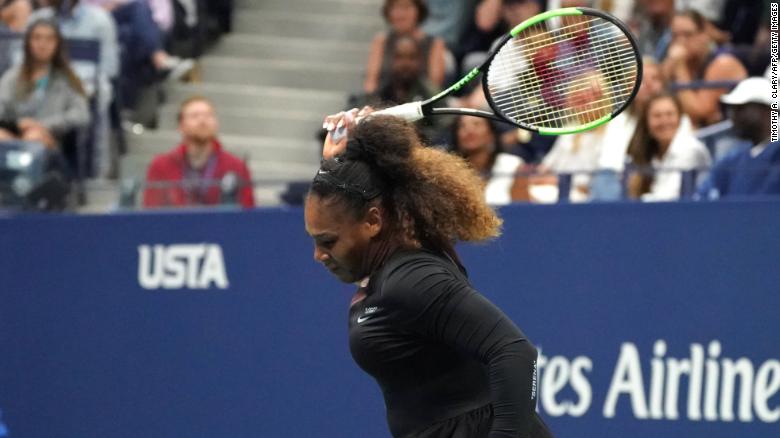 Serena Williams was fined $17,000 (£13,100) for the code violations that included calling the Umpire a "liar" and "thief" in her US Open final loss. Williams, beaten by Naomi Osaka, was docked a game for verbal abuse and had a point penalty for racquet smashing and a code violation for coaching. She later said it was "sexist" to have been penalised a game. Many male players such as Roger Ferderer and Rafael Nadal have made mistakes as such before but there were no dire consequences as what Serena went through. Honestly speaking, the crowd were diehard fans of Serena, that including Naomi Osaka, Credit is given where credit is due. It was truly a heart breaking moment for sports. Naomi Osaka came in swinging and without a doubt deserved the win. Despite the Umpire's biased actions towards Serena, Naomi has definitely threw her out of her game. Williams may have taken the issue a little too personal which agitated the Umpire, but that does not mean I don't justify her feelings, it's an emotional claim to endure. Serena will always be a champion to the eyes of many across the world, but one can't deny that Osaka was a great player and outplayed Serena in her own game!
All in all it was a great year for sports, with losses we gain triumphs!
Check out: The biggest sports moments of 2018