Are BTS And Becky G Collaborating On A Song Together
All these secrets!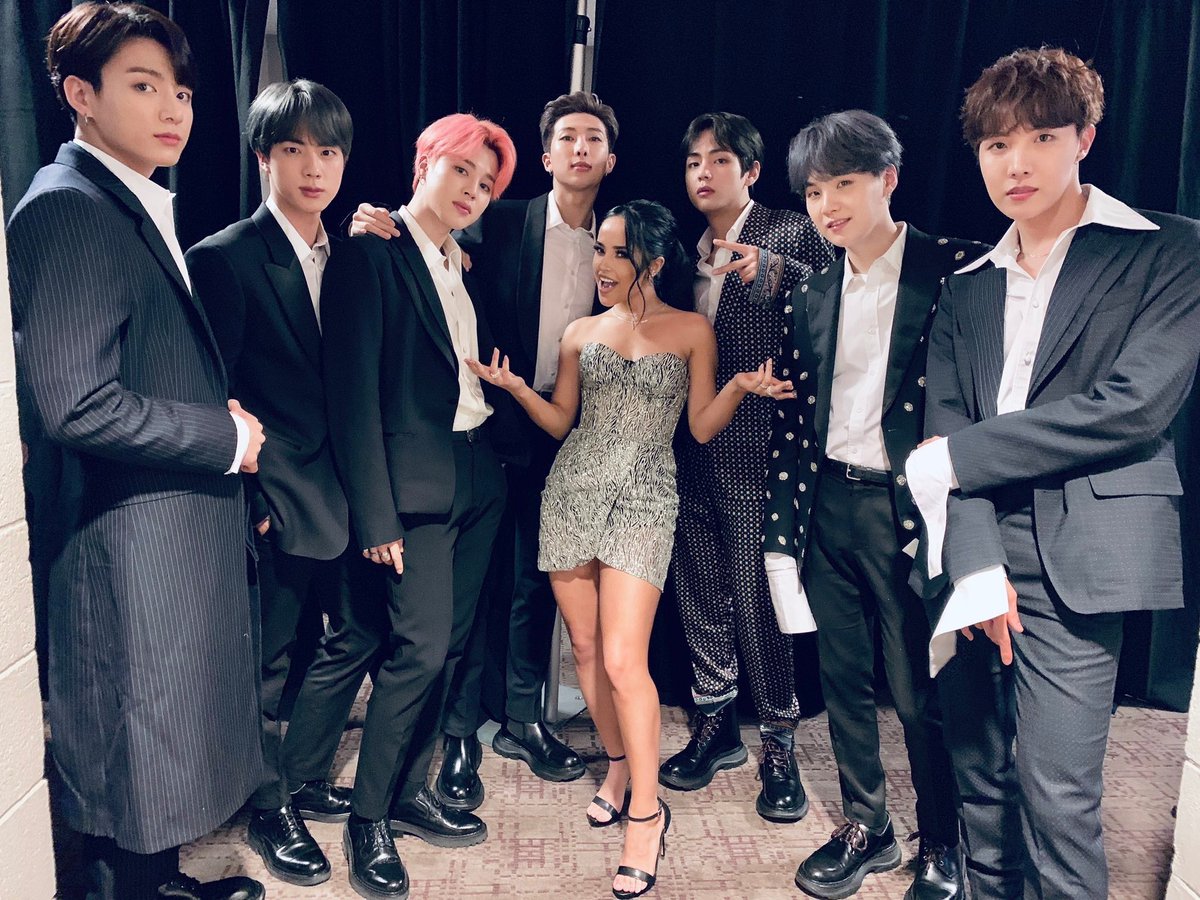 BTS may just have confirmed an upcoming collaboration with Becky G.
Ever since their record-breaking song "Boy With Luv" with Halsey, fans have been dying to know what's next for the group — and now we may finally have the answers. In a series of cryptic messages posted to Twitter on Wednesday (September 26), BTS sent fans into a frenzy when dropped some exciting hints about a "secret" project with the Latin singer.
So Becky G posted this:
Soooo… #BeckyHasAnotherSecret ?

— Becky G. (@iambeckyg) September 26, 2019
Shortly afterward, BTS replied to her tweet, writing, "Hey, I have a secret, too."
Hey @iambeckyg, I have a secret, too…??? #CNS

— 방탄소년단 (@BTS_twt) September 26, 2019
Then 22-year-old pop star later retweeted the post with several secretive emojis.
??? @BTS_twt #CNS https://t.co/F9hT7kCbDz

— Becky G. (@iambeckyg) September 26, 2019
The rumors all started when Becky G hinted at a collab during an interview at the 2019 Billboard Music Awards on May 1. Though she didn't confirm anything, her coyness was enough to assume something was going on.
Becky G hinted a collab with bts. Jhope is also in LA now, that means… ?pic.twitter.com/MIvmhNNh9l

— aira ʸᵒᵒⁿᵍˡᵉˢ (@meanyoongi0309) August 21, 2019
"I don't want to say too much. We might have a little something-something and we definitely connected," she said before the interviewer asked when fans can expect the song to be released. "When we get to it. You know, it's hard. They're obviously very successful and they work their butts off. So hopefully, when things line up — timing-wise — it'll happen."
Not to mention J-Hope has previously expressed interest in working together…
In this interview jhope said that he wants collaborate with Becky G, so maybe it will happen ???@iambeckyg @BTS_twt pic.twitter.com/gTsvueaIQC

— Nuria ?? (@nuribennet) June 16, 2019
Now we will just have to wait and see!
Email

Studio Hotline


+603-7724 1144

Office


+603-7710 5022

Fax


+603-7710 7098

Address


Media Prima Audio, PH Floor, North Wing, Sri Pentas, Persiaran Bandar Utama, 47800, Petaling Jaya, Selangor Darul Ehsan.