Queen B's Beyhive is out in full force! And for what seems to be a good reason. As it turns out, a soon to be released Bollywood movie titled 'Khaali Peeli' – starring young actors Ananya Panday and Ishaan Khatter – has raised the ire of Beyoncé's fanbase with the title and racist lyrics in the song.
https://www.instagram.com/p/B6xHIlLDamD/
The song was originally titled 'Beyoncé Sharma Jayegi' – which roughly translates to 'Beyoncé will feel shy' – and contains the lyrics:
"Tujhe dekh ke goriya, Beyoncé sharma jayegi".
When translated, it is equivalent to:
"Seeing you oh fair woman, even Beyoncé would feel shy/embarrassed".
The word "goriya" is a term that is often used in Hindi songs alongside images of beautiful women. However, the word's literal translation is 'a woman with a fair skin'. Putting two and two together, the lyrics seem to be belittling the iconic singer. As a result, many are calling out the producers of the movie for promoting colourism through the song and its lyrics as well as for using Beyoncé in the song.
https://twitter.com/rtulshyan/status/1304177782344228864
https://twitter.com/siriuslyveiled/status/1302938997476392960
"Tumhe dekhke goriya, beyonce sharma jayegi" RACIST MUCH?

The obsession with fair skin, oh god! Yewwww! These are the kinda sh*t our ppl listen to 🤢🤢🤢🤢🤢 https://t.co/LvsIxOrjJl

— Lux⁷ 🐙🐋 ⟭⟬ ᴮᴱ {IA} (@theImperfectink) September 7, 2020
QUEEN BEY included South Indian girl in the brown skin girl mv and made Indians proud and what we did….made an embarrassing song #BeyonceSharmaJayegi in return. Bees will definitely sting now. #beyhivestings✊🏾 pic.twitter.com/eRrgz4wjvi

— Shubham Rai (@Shubham93994235) September 8, 2020
Following the backlash (and legal concerns. After all, the Beyoncé has had her name trademarked), the movie's director, Maqbool Khan, released a statement to The Times of India, stating:
"We have made the film to entertain audiences and not to offend or hurt anyone. Since our lyrical arrangement did not go well with few people, we thought why not keeping the essence the same while changing the song a little bit."
Instead of using her actual name, the producers have changed its spelling to 'Beyonse' and the lyrics to: "the world will feel shy". Elaborating further,  Khan defended the use of the word "goriya" as he says that it's been " He went on to defend the decision saying that the term was "so often and traditionally used in Indian songs to address a girl, that it didn't occur to any of us to interpret it in a literal manner."
Well…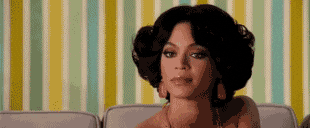 The film is set to be released early October via Zee Plex (a new pay-per-view streaming service specifically for Bollywood productions). In the meantime, you can watch a snippet of the song here:
https://www.youtube.com/watch?v=PHw3Sia7KtY&feature=youtu.be