When South Korean entertainment mammoth YG Entertainment formed BLACKPINK – consisting of members Jennie, Lisa, Rosé and Jisoo – back in 2016, could they have known that these four young women would soon be leading a new wave of K-POP? Since their formation, they've collected five Guinness World Records, three People's Choice Awards, a Teen Choice Award, an MTV Video Music Award and are now the second most subscribed-to artists on YouTube (with 48.8 million subscribers; Justin Bieber tops the list with 57.2 million subscribers).
However, this is all without releasing a single FULL album. That's right – in more than four years, the girls of BLACKPINK have yet to release a proper album comprising of four or more different songs (their Japanese album basically compiled all their existing singles pre-2018 but in Japanese). However, it is now 2020 and YG Entertainment has decided that it's finally time for the girls to drop 'The Album'.
https://www.instagram.com/p/CFYR3lGDzh3/
Since announcing the album, BLACKPINK has gone on to release and promote their banger 'How You Like That' as well as bops with Lady Gaga for her 'Chromatica' album ('Sour Candy') and Selena Gomez ('Ice Cream') for their own. And now that the full tracklist for the album has been revealed, fans have another international collaboration to look forward to and it's none other than Belcalis Marlenis Almánzar (aka Cardi B).
'THE ALBUM' TRACKLIST POSTER#BLACKPINK #블랙핑크 #1stFULLALBUM #THEALBUM #Tracklist #TITLE #LovesickGirls #HowYouLikeThat #IceCream #PrettySavage #BetYouWanna #CrazyOverYou #LoveToHateMe #YouNeverKnow #20201002_12amEST #20201002_1pmKST #Release #YG pic.twitter.com/eYgDSnHZ1M

— BLACKPINKOFFICIAL (@BLACKPINK) September 29, 2020
The 27-year-old 'WAP' rapper is set to feature on a track called 'Bet You Wanna' and just from the title alone, one can already guess how much of a smash hit the song is going to be. That, coupled with the fact that Ryan Tedder (from One Republic; who also wrote Beyonce's 'Halo' and Leona Lewis's 'Bleeding Love') and Melanie Fontana (who helped write BTS's 'Boy With Luv') are listed as co-writers for the song – oof!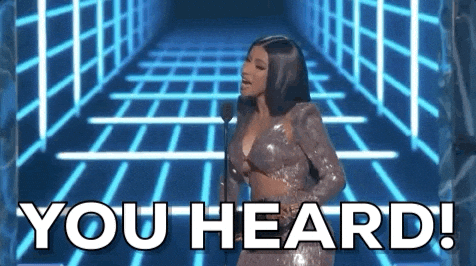 After the big reveal, fans were quick to flood social media with excitement after spotting Cardi B's name on the tracklist. Cardi herself retweeted the tracklist and, without giving away much, Cardi B had this to say about her collaboration with BLACKPINK:
And the song is amazing 😉

— Cardi B (@iamcardib) September 29, 2020
Not long after, she followed up with this amazing stan name for herself and BLACKPINK by combining her fandom name (Bardigang) and BLACKPINK's signature line 'BLACKPINK in your area' –  ngl, it's catchy!
Bardipink in your area👀👀👀👀

— Cardi B (@iamcardib) September 29, 2020
Friday can't arrive fast enough! Are you excited for the album?
*Cover image credits: 
BLACKPINK: BLACKPINK's Instagram
'Bardipink' poster: Twitter user @CardiReign