The Haim sisters are a force to be reckoned with. Not only can they all sing, but they can also all play multiple instruments. The LA-based group consisting of  34-year-old Esta Haim (bass guitar and vocals), 31-year-old Danielle Haim (lead vocals and guitar) and 28-year-old Alana Haim (guitars, keyboards) can rock to almost any beat. They are identified as a 'pop-rock band' and with 'Women in Music Pt. III', they're exploring depths within themselves in a very public way – by making music about it.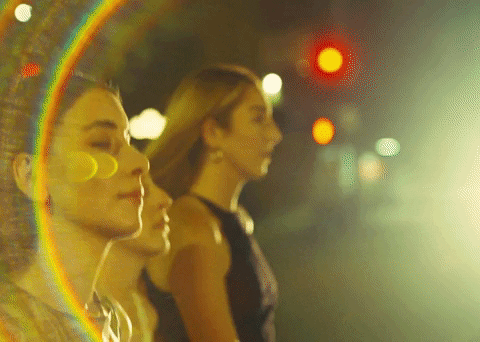 As part of the experience making their third album, HAIM spent a lot of time processing their emotions and experiences while writing songs in a cramped, windowless studio in Burbank in 2019. Amongst the stories told on 'Women In Music Pt. III' are ones that tackle social isolation in the age of the Internet, mental illness, unfinished business with ex-boyfriends, unrequited yearning, and the ways that male critics have dismissed them in the past. This last one especially has been making waves with it's short but an impactful accompanying music video.
https://www.instagram.com/p/CGDGryklaLY/
In the video, we see (and hear) Danielle Haim singing what appears to be a stripped-down version of the song, "Man From The Magazine" at a customer. Apparently, the video was a last-minute addition to the accompaniment for the album as it was shot on the same day that the sisters did their cover shoot for the album. The idea is said to be from Paul Thomas Anderson, who felt that the song "needed a visual." In a caption on their Instagram post for the video, they explain that they had been working on the song for a while, after a string of ludicrous questions they'd received as an all-woman group. At one point, a journalist had mocked Este's softened facial expressions when she played bass, asking her if  she made "the same faces in bed."
"It started out as a joke between us when journalists asked us questions that were an eye roll (do u make the same faces in bed as you do on stage? Do you actually play on your albums?????) later on down the line we found ourselves singing the line, "man from the big rock music magazine, what did you say???" to each other as an inside joke between the three of us. It made us laugh and helped us move on from the annoying "what does it feel like to be a woman in music" questions we were getting on tour."
However, as time went on, the group found that their years in the industry had amounted to a lot of unacceptable moments.
"Sometime in late 2018, we were sitting around going over some "what the f***" moments from our 11 years of being a band and kept coming back to that "man from the magazine" line. We decided to explore our feelings about *that question* and our experience dealing with some of the f****ry in this industry – specifically being called "difficult" or, more bluntly "a c***" for sticking up for ourselves, our work, and our vision. There are many many MANY more verses to this song but the ones that made it onto WIMPIII were the ones that stuck."
https://www.instagram.com/p/CDZkOZHFsJE/
HAIM has never had any qualms about making their voices heard but 'Women In Music Part III' is their boldest dive into the kaleidoscope of colours that make up their personalities. From the bright tones of 'Summer Girl' to exploring depression and grief in 'Now I'm In It', the women of HAIM bring listeners on an emotional rollercoaster that also serves as a big middle finger to the gender inequality in society.
Watch the video below: