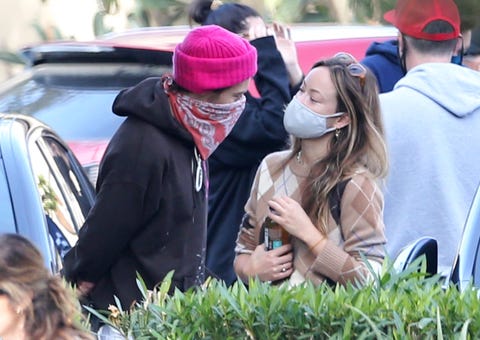 Elle
You know it's getting serious when you start sharing jewelry with you SO!
As it seems Olivia Wilde and Harry Styles aren't keeping their relationship on the down low anymore, the actress may have showcased just how serious the relationship is thanks to a certain GOLDEN accessory.
Daily Mail
The actress was recently spotted out and about in Los Angeles wearing a necklace that sparked the memory of some loyal fans of Styles as they immediately recognized where the chain came from. In fact, some are convinced the piece is similar to the pearl necklace featured in Harry's Golden music video.
Insider
Vogue revealed that the accessory being examined by pop culture fans is an éliou Senna necklace. And according to éliou, it was first worn by Harry in November 2020.
"We designed the Senna back in the midst of quarantine when emotions were sky high," founders Cristy Mantilla and Duda Teixeira told the publication. "We knew we wanted to design something happy — an uplifting piece that still felt casual and had a sense of nostalgia for better times."
Daily Mail
As of now the couple are left patiently waiting to get back to work on the upcoming psychological thriller, Don't Worry Darling, which Olivia is directing and Harry is acting, but fret not the free time only means the pair continues to spend time together.