Okay, let's take a moment to breathe.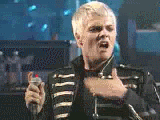 Fans believe that legendary, teenage angst icons My Chemical Romance may be returning with new music! For good reason, too! Just a few days ago, lead singer of the band, Gerard Way posted a suspicious photo, darkly lit photo without a caption on his personal Instagram account. There are no hashtags nor is there any context to the image – but this is not Way's first time posting such images.
View this post on Instagram
Way posted a very similar statue back in July – before the band announced that they would be reuniting. His most recent photo features what seems to be a white statue, obscured by the fiery, blurred image of what looks like a crow/palm fronds. Online, fans are losing their minds as they draw comparisons between his initial post and the most recent one – claiming that this could signify a new MCR-related project. Amongst the comments on the picture from fans are:
"THE TIME HAS COME EVERYBODY STAY CALM THIS IS NOT A DRILL."

"Don't do this, don't give me hope."

"It's like you spend all your free time finding new ways to torture your fans."
Meanwhile, the group also employed the statue imagery in their announcement for their first reunion concert earlier this year, using the winged Pasquale Rizzoli sculpture alongside the caption, "Like Phantoms Forever…".
The group, faced with the COVID-19 pandemic, was forced to reschedule their Spring 2020 reunion tour to Fall 2021 and have added two festivals to their appearance list (Riot Fest in Chicago and Aftershock in California). Thankfully, despite the delays, the group hasn't been idle. The 43-year-old Way, in particular, has reportedly registered two unreleased songs with BMI Repertoire, the largest music rights organization in the U.S. that allows musicians to collect revenue and royalties on tracks uploaded. Amongst the two is the track 'Emily', initially shared back in 2016 as part of My Chemical Romance's 10-year-anniversary reissue of 'The Black Parade'.
As of yet, none of the members have responded to nor commented on the rumours.
*Cover image credits: Instagram / @mychemicalromance