Following the iconic footsteps of actors like Jack Nicholson and the late Heath Ledger, Jared Leto took on the heavy (overplayed?) role of the Crown Prince of Crime in the 2016 movie, 'Suicide Squad'.  However, very different from Nicholson and Ledger's 'Joker', Leto's featured tonnes of (questionable?) tattoos and even a set of grills on his teeth – causing fans to question the direction that the character was going in and how it was going to be played. But, much like the late Ledger, Leto is said to have dived deep into the character using method acting. Despite only being on screen for a short time – all of 10 minutes, really – Leto is said to have never broken character when onset. Reportedly, Leto would watch gruesome and grisly crimes online to get into the mindset of one of the greatest comic book villains of all time. He is even said to have gifted the cast and crew of the movie some of the weirdest things: including bullets, a dead hog, inappropriate magazines and a  rat. At the time, the media picked up, circulated and twisted a particular tale of how Margot Robbie (who does a stunning portrayal of Harley Quinn) received a rat (dead or alive, depending on who you trust) but Leto has since come out to set the record straight.
View this post on Instagram
Stopping by for an interview with GQ, the 'Little Things' actor shared,
"It's funny how all this stuff takes on a life of its own. I never gave Margot Robbie a dead rat, that's not true. I actually gave her a lot of … I found this place in Toronto that had a great vegan cinnamon bun … so that was a very common thing."
Now, Robbie is known to be vegan so when the story broke, it became huge news and media outlets somehow made it so that people believed the rat was dead upon arrival. In reality, when the Australian actress had spoken about the episode, she had actually described the gift as "nice love letter with a black box with a rat in it – a live rat". She even specified what happened to the rat:
"I was like, I'm not going to kill him. So I ended up keeping him as a pet. I ended up getting him like a sweet little playpen, a slide, a hammock, and a leash because I wanted to take him to set and walk him around … But then our landlord at the place I was staying found out."
Yikes. Well, with the actor picking up his role for Zack Snyder's Justice League, will we be hearing of similar incidents?
View this post on Instagram
Here's to hoping Leto will get a chance to redeem himself as the Jester of Genocide, it already looks like he's got an upgrade! Leto will be making his appearance in a little over a month when Snyder's much anticipated darker cut of the 2017 movie drops.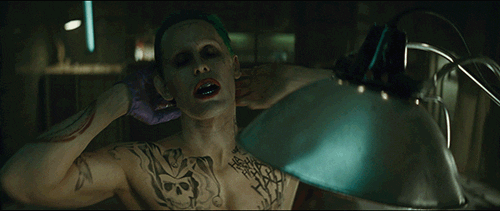 *Cover image credit: Instagram / @thesuicidesquad