Our very own R&B Queen Yuna recently celebrated her 34th birthday and in true 'Yuna' form, delievered an important message about respect for each others practice of faith.
View this post on Instagram
Taking to her Instagram story, Yuna (born Yunalis binti Mat Zara'ai) put critics and disparagers alike down as she addressed what appears to be comments about her lack of religious display on social media. As for why she wanted to share her thoughts, it started with one user – a  young girl who asked that Yuna dress more conservatively. The user shared her hopes that the 34-year-old singer you'd "be a better person and be a good inspiration" for her younger audience as, despite "being great", the fan has issues with the way Yuna chooses to dress. Yuna gently shut down the netizen's comment, replying:
"I'm fine actually, thank you I am as real as can be."
She went on to speak her truth, sharing that the action of covering up oneself doesn't always equate to the person being the kindest/nicest.
"I promise you when you grow up you will learn not to judge people by the way they look."
Yuna went on to elaborate further in a separate story as she held nothing back. She explained why she believes it's more important to be a "fully functioning, happy person" when it comes to outsider comments and perceptions – and how to go about doing that. The 'Crush' hitmaker shared what she's realised after being in the music industry for almost 15 years, especially when it comes to her journey with her faith. She stated:
"My relationship with Islam is beautiful & personal, it's not for show especially on social media. I don't strive to show people I'm a good Muslim."
At the end of the day, the Kedah-born R&B idol wants people to remember to live life for themselves and to never take people at face value. After all, people who are unhappy with your happiness, your success, and your way of life are people who are "unhappy and hate themselves". Yuna says that these are the people who will not hesitate to bring someone else down with them.
"No matter how hard you try to please people, it will never be enough for them. Don't send yourself into depression for this. […] I don't immediately believe what I see. Looks can be deceiving."
Yuna also calls out hypocrites who go against humanity through acts of like harassment, theft and the act of undermining others. She warns that people should be more focused on being kinder to each other and the earth than to try to achieve the "perfect" or idealistic image of what a person of faith should be like.
View this post on Instagram
In an interview with Channel News Asia, Yuna – who spends her time in between Malaysian and the US – went into detail as to why she is able to ensure that she doesn't sacrifice or change her musical direction nor her religious identity, sharing:
"When I first started playing music, I was already covered … wearing headscarves. And, like, normally, people would expect you to change, toss this part of your life away so that you could be a pop star. But I just wanted to make music, not really be a "pop star" pop star. And there's always people who wouldn't necessarily agree with what I'm doing right now. But I'm really happy with where I am right now, you know. I'm a Muslim. I don't try to hide it. I'm also a girl who loves music. And I don't try to hide that as well."
With that being said, in the immortal words of Yuna –
"Find your light
Don't hide from what you are
And rise before you fall."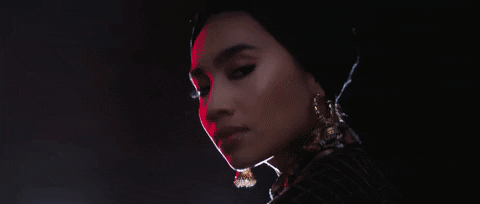 *Cover image credits: Instagram / @yuna as photographed by  @birdycantfly