T Singapore
To say Lili Reinhart's 2021 is off to a "bizarre" start, is an understatement!
Fame came pretty quickly for the actress after playing the role o Betty on Netflix's Riverdale, so there's no denying the  star has a huge fan base ever since. One look at her Instagram, and you'll notice she has more than 26 million followers. Unfortunately for the actress, such well know notoriety comes with some unpleasant moments. As it has been recently revealed that it appears one devotee has taken things to another level.
Twitter
For instance, Seventeen Magazine issued an apology to the 24-year-old actress after they published an interview by someone pretending to be her.
Check their post down below:
— Seventeen (@seventeen) January 22, 2021
Following the magazine's apology, the Hustlers star took to Instagram Stories to speak out about the situation. According to Buzzfeed, the impersonator shared details about the new Riverdale season and allegedly pretended to be the series star's publicist.
About Her
This is what the actress had to say: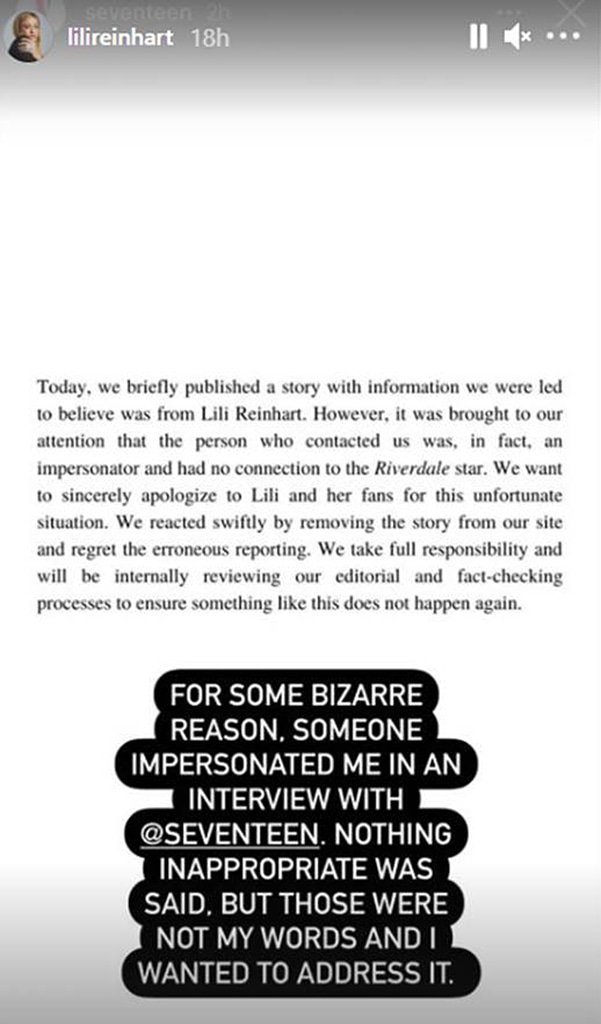 E News
However at this moment, it's unknown who has been impersonating the actress and her publicist. But one thing fans can say is certain, Riverdale stars' lives are rocky both on and off screen.