Newly elected Vice President of the United States Kamala Harris is the first of many things – first female vice president, the highest-ranking female elected official in U.S. history, and the first African American and first Asian American vice president. The Oakland born Californian, daughter to an Indian mother and Jamaican father, is moving mountains and making great strides with her parents' teachings ringing true:
"I was raised that, when you see a problem, you don't complain about it, you go and do something about it,"
View this post on Instagram
But one first that many were not expecting: she's the first Vice President to openly show their love for the Bangtan Boys on Twitter! While she hasn't actually interacted with the boys, Twitter users have found that the VP's official account is following the BTS boys' official company account.
https://twitter.com/PiedPiper34/status/1351941290590670849
Of course, the news meant that Twitter had a field day with the information. To say they lost their cool is an understatement, but definitely meant the birth of some of the funniest tweets.
i think it's so amazing that kamala harris is only following like 778 people but among those 778 people is bts

— john⁷ (@kimtaesheart) January 20, 2021
Can y'all imagine VP Kamala Harris sitting outside her porch, sipping lemonade while singing Boy with Luv

— 케이시⁷ (@hellonamjoon_) January 21, 2021
OK BIT WHAT IF KAMALA HARRIS INVITES BTS TO THE WHITE HOUSE????

— 👾⁷ (@twitzymoon) January 20, 2021
https://twitter.com/jhscign/status/1351944275064451078
Kamala Harris followed BTS?!?!?!? guess shes shining through the city with a little funk and soul…..

— namu joonie | 6.10 (@jooniethepooh_) January 20, 2021
K-Pop has definitely made its mark on the global music industry, with more and more K-Pop groups making it (and topping) global charts like Billboard. However, this isn't the first time a high ranking official has made mention of K-Pop and South Korean entertainment. Former US President Barack Obama has also once named a K-Pop group on his radar, industry veterans SHINee.
Well, now I can't get the image of Aunty Kamala bopping along to "Boy With Love" out of my head. How cute is she?!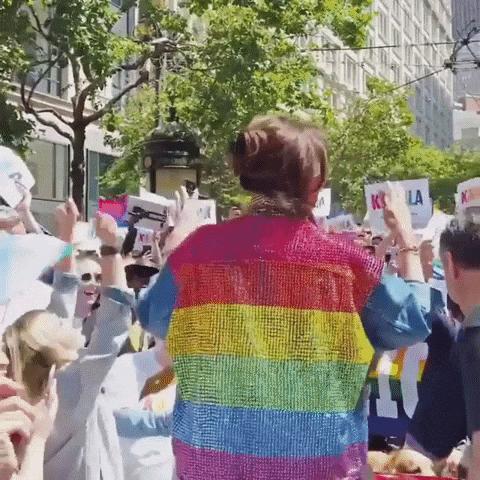 *Cover image credits: Getty / TASOS KATOPODIS // Instagram