By My Blade, Here's Everything To Know About 'DOTA: Dragon's Blood' Netflix Series
"We've imagined the DOTA 2 universe and woven together an epic, emotional, & adult-oriented story about some of their favourite characters,"
If you spent a lot of time back in the day in CCs (cybercafes), you'd have seen screen after screen throwing up images of forests – maybe a river – and, definitely, a lot of fighting.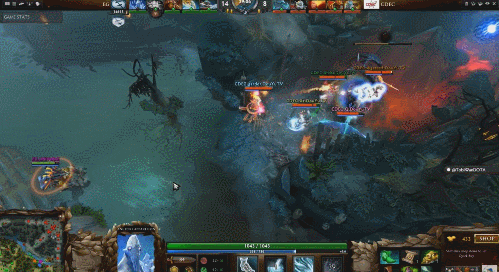 Even now, after 18 years and a sequel, Dota (short for Defense of the Ancients) has a strong, solid following. What started as a mod from World of Warcraft 3 that turned into its own battle-arena game, Dota still holds its place as an influential, highly played game in the esports circle. And that circle, is no joke, with the Dota 2 tournament in 2019 amassing a prize pool of over $30 million. And even if it's been a while since you've spammed the QWER keys, a show that will breathe more life into some of our favourite characters is definitely intriguing! So what can we expect from 'Dota: Dragon's Blood'?
It will be…
An 8-part anime. Unfortunately (or, maybe, it's a good thing? We'll have to wait and see) the show will only have 8 parts, despite the stellar crew behind the series.  Headed by Ashley Edward Miller (co-writer for 'Thor', 'X-Men: First Class') with animation by Studio Mir – the Seoul based South Korean animation geniuses behind 'The Legend of Korra, 'Voltron: Legendary Defender' and the 2018 movie, 'The Death of Superman'. Miller said of the series:
"Fans will love how we've imagined the DOTA 2 universe and woven together an epic, emotional, and adult-oriented story about some of their favourite characters. The cinematic animation, acting and music are simply next level and I'm grateful to Valve for supporting our creative ambitions."
Focusing on…
The dragon [that] comes for war! Well, if the name was any indication, the story will focus on the character, Dragon Knight. The synopsis reads:
"The sweeping fantasy series tells the story of Davion, a renowned Dragon Knight devoted to wiping the scourge from the face of the world. Following encounters with a powerful, ancient eldwurm as well as the noble Princess Mirana on a secret mission of her own, Davion becomes embroiled in events much larger than he could have ever imagined."
Expect to be able to watch the new show…
'Dota: Dragon's Blood' is slated to drop on Netflix on March 25.
Watch the trailer here:
Dota 2 isn't the first (or last, probably) multiplayer online battle arena game to get a show of its own. At present, Riot Games is working to release a series called "Arkane" this year, set in the League of Legends (LoL) universe.
Email

Studio Hotline


+603-7724 1144

Office


+603-7710 5022

Fax


+603-7710 7098

Address


Media Prima Audio, PH Floor, North Wing, Sri Pentas, Persiaran Bandar Utama, 47800, Petaling Jaya, Selangor Darul Ehsan.