As one of the 'Original Six' Avengers alongside Captain America, Iron Man, Thor, The Hulk, and Hawkeye, The Black Widow is also the first leading female Avenger. Many have been complaining about how she is only awarded her own movie so late in the game, which is more than a decade after her first debut into the Marvel Cinematic Universe in 2008.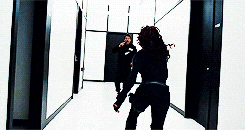 Now with the threat of Covid-19 wreaking havoc left and right, The Black Widow movie release has gone through multiple delayed releases. The latest update on its release (so far) is on July 9th. But fans, rejoice! Marvel has dropped a new trailer to tide you over!
In this 2-minute trailer, we get a glimpse into Natasha's past as a child played by Ever Anderson, the daughter of Mila Jovovich. 
"We call her Baby Widow. She's such a fan of the Marvel movies and you know, Ever is just such an incredible talent. She's just a real natural and it was so wonderful to watch her on set, just being so in the moment, and everyone was so impressed. I mean, literally, she had everybody crying during one of her scenes. She's amazing. I think people are going to be really impressed with her when they see the movie," gushed Mila about her firstborn.
What jumped out from the scene for us, though, is the fact that young Natasha's hair is…blue. 
Ever since her first comic debut dating back to 1964, Natasha Romanoff has been sporting fire-engine red hair and has been nicknamed 'Red' multiple times. It's interesting to see that she tried to mute her scarlet mane by dyeing it blue as a child. 
Could it be because she was on the run? Let's give it a week tops until fans come out with their own theories!
*Cover image credits: 

Formulate