Popular toy company Mattel is planning to turn another children's game into a big-screen masterpiece. 
Rock 'Em Sock 'Em , a tabletop game featuring robots will star Fast & Furious star, Vin Diesel. The game sees each player take control of one of two robots: Red Rocker and Blue Bomber. Both robots are standing on a platform moulded with bright yellow high-impact polystyrene plastic, representing a boxing ring. By pushing plunger buttons on a pair of joysticks at the base of the platform, players make their robot punch at their opponent's robot. If a robot's head is hit with sufficient force at a suitable angle, the head will overextend away from the shoulders, signifying that the other player has won the round and pushing the head back to the shoulder and getting ready for the next round.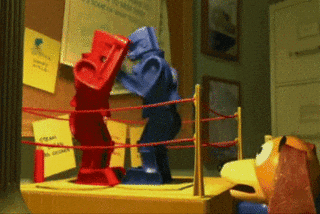 Of course, it is highly unlikely that the movie version of the game will include this particular feature. The film will be produced by Mattel and Universal Pictures, alongside Diesel's very own production house, One Race Films. Of the project, the 53-year-old actor says:
"To take the classic Rock 'Em Sock 'Em game, with Mattel as my partner, and align it with the kind of world-building, franchise-making success we have had with Universal, is truly exciting," 
Rock 'Em Sock 'Em is just one of the latest in Mattel's asset to be getting a big-screen makeover. Other projects that are in the works include a Barbie movie starring Margot Robbie. Lil Yachty is also developing an action-heist comedy that focuses on the card game Uno.
View this post on Instagram
It's great to know that Diesel is working on other projects!  He's been attached to the Fast & Furious franchise for 20 years now, the upcoming movie – the ninth instalment of the Fast & Furious franchise – set to be released in cinemas on the 25th of June 2021. The action-packed film was originally set to be released last year but – like many movies – faced delays due to the pandemic. 
View this post on Instagram
The entire Fast & Furious franchise is expected to end with its 11th film, with Justin Lin having been requested to direct it. We're excited to see BOTH of these movies on the big screen!