It looks like we may be seeing large, blue aliens leaping across cinema screens soon! 'Avatar 2', the first of four planned sequels to the 2009 blockbuster has now completed filming.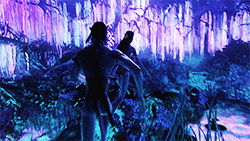 The huge project started way back in 2017 (although James Cameron had started planning the sequel before the first movie was even released) with production focused on the motion capture segments for both 'Avatar 2' and 'Avatar 3'. This then went on until 2019, when live-action filming commenced but was soon put to a halt because of the COVID-19 pandemic. During this time, the crew had been filming in New Zealand but had to shut down production and remain in Los Angeles until given the green light to go back which wasn't until June this year.
https://www.instagram.com/p/CC_8cvDpQgw/
In a video call with his 'Terminator' alum Arnold Schwarzenegger, Cameron went into more details on the progress that filming for the 'Avatar' movies were making. He told Schwarzenegger (via The Independent):
"COVID hit us like it hit everybody… We lost about four and a half months of production. As a result of that, we've rolled around one more full year for a release in December of 2022. That's been announced already. Now that doesn't mean I have an extra year to finish the film."
According to James Cameron, the visionary behind the first 'Avatar' movie as well as cult classics like the 'Terminator' and 'Titanic', the timeline for the 'Avatar' movies are as such:
"The day we deliver Avatar 2, we'll just start working on finishing Avatar 3. So wehre we are right now, I'm down in New Zealand shooting. We're shooting the remainder of the live-action. We've got about 10% left to go. We're 100% complete on Avatar 2, and we're sort of 95% complete on Avatar 3."
Thanks to the fact that the crew can resume work, fans of the franchise have been awarded for their patience with cool images showcasing elements that the movies USD$1 billion budget have brought together.
https://www.instagram.com/p/CFfLRKrn1pm/
This includes underwater scenes, for which new technology had to be developed for it to be possible to film (one of the reasons the movie has been delayed six times now).
https://www.instagram.com/p/CE9u2RZHK-4/
As for the plot of 'Avatar 2', that much remains a mystery. What we DO know is that we'll be seeing more of Jake Sully and Neytiri as well as more regions of Pandora explored. According to Cameron, there will be an 8-year time jump between the first movie and 'Avatar 2' in which Sully and Neytiri's now 8-year-old daughter will be introduced.
https://www.instagram.com/p/B7Ac7VTAYOR/
Producer Jon Landue has confirmed that the umbrella theme for the new 'Avatar' movies will focus on family while remaining enjoyable as standalone films.
At present, 'Avatar 2' is slated to be in cinemas on December 16th, 2022.