LSD- Labrinth, Diplo and Sia Drop New Song 'No New Friends'
LSD is back with a hit!
The trio we love is back with another possible hit! When LSD (Labrinth, Sia, and Diplo) announced the release of their first single as a supergroup early last year, many were skeptical of the chemistry that these three extremely diverse artist would have on a singular record. But we were quickly proven wrong when "Genius" was airdropped into the world. As the trio continue to wow us by putting out tracks throughout 2018, listeners were eager for a full-length record that never seemed to transpire; this week, however, that hype was set off yet again with the announcement of Labrinth, Sia & Diplo presents… LSD and the release of their new single "No New Friends."
The track features a rhythmic backdrop that has come to be expected of the group's output. Through the stabbing piano chords, and background vocals galore dominate its 2:55 runtime. Over the dizzying soundscape, Labrinth and Sia open the song with a gambling back-and-forth that references them as kings and queens, and a game of dice. Moving through the track, the duo celebrate their "champagne dreams in an endless drought," boasting their security both financially and personally; they continue to swear their commitment to each other in the second verse, declaring they "ain't holdin' out" on anyone. If I'm being honest "No New Friends" was lyrically not doing it for me. It was weak in comparison to their prior inventiveness, however it's a suitable reintroduction to the trio that has clear potential to become a summer hit.
Labrinth, Sia and Diplo AKA LSD are preparing to release their debut collaborative album 'Labrinth, Sia & Diplo present… LSD.' The album is expected on April 12, 2019. So far, this album has produced many hits such as "Genius," "Thunderclouds," "Mountains" and "Audio." And the new single is expected to follow its predecessors in success. The three — who released one of 2018's biggest singles, "Thunderclouds," last summer — bring a sterling pedigree to the project. Sia, of course, is an artist and hit songwriter/producer whose hits under her own name include "Cheap Thrills," "Chandelier" and "Elastic Heart" — the latter a collaboration with Diplo and The Weeknd. She recently moved from RCA to Atlantic Records and her debut outing for her new label was last year's holiday-themed collaboration with Grammy-winning producer Greg Kurstin, "Everyday Is Christmas."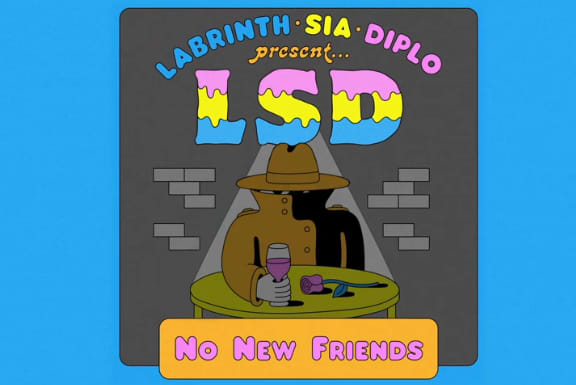 Diplo's breakthrough came with M.I.A.'s 2004 debut album "Arular," which he largely co-produced, and burst into the mainstream with her 2007 hit "Paper Planes." Over the years he has become a globe-trotting DJ and leads several collaborative projects including Major Lazer, Jack U (with Skrillex) and a new one with Mark Ronson called Silk City, which will make its debut at New York's Governors Ball festival this summer. British-born Labrinth has worked with Mike Posner and Noah Cyrus and released his most recent album, "Electronic Earth, in 2012.
With that being said, Labrinth and Sia does an amazing job, as usual, on this upbeat and catchy tune. Listen to the song below.
Rating: 4.5/5