Ariana Grande skipped out on the Billboard Music Awards held in LA this year but it may be for a good reason – she was busy prepping to drop her sixth studio album! And the multitalented singer dropped hints, teasers and promos galore leading up to its release! Along with a countdown clock on her website, Grande posted a slow-mo video of herself typing out the word 'Positions'. The first count down timed to midnight on Friday, October 23. The second count down ended midnight on Friday, October 30. And as speculated, on the 23rd, Grande dropped the song and (FIRE) music video for the single from AG6 ahead of the album drop.
And like the gift that keeps on giving, Grande has announced ANOTHER music video – this time for the risqué track "34+35".
View this post on Instagram
Grande set expectations quite high after initially unveiling the full tracklist for AG6 and boy, there was so much that happened within the 14 songs –
1. "Shut Up"
2. "34+35"
3. "Motive" feat. Doja Cat
4. "Just Like Magic"
5. "Off the Table" feat. The Weeknd
6. "Six Thirty"
7. "Safety Net" feat. Ty Dolla $ign
8. "My Hair"
9. "Nasty"
10. "West Side"
11. "Love Language"
12. "Positions"
13. "Obvious"
14. "POV"
And according to Grande, we should be hyped for her collaborations with The Weeknd and Ty Dolla $ign as those just to happen to be her 'fav tracks'!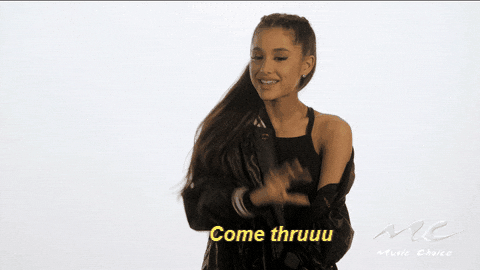 Grande posted a snippet of her upcoming track titled 'brb' earlier this month, sending fans of the 27-year-old singer into a tizzy.
brb pic.twitter.com/ek0NvKvY0N

— Ariana Grande (@ArianaGrande) September 15, 2020
The 5-second snippet came after what appear to be song lyrics, with Grand tweeting…
know my love infinite nothing that i won't do

— Ariana Grande (@ArianaGrande) September 14, 2020
She went on to confirm that she's currently working on the mixes for her sixth album.
Adding fuel to the fire is Grammy-nominated producer TBHits (whose real name is Tommy Brown). In a recent post featuring a throwback photo (from around the time the album 'thank u, next' was finished) of Grande and him standing on the roof of a building, the producer cryptically captioned the image,
"6****,"
Leading fans to speculate – and hope – that the album is dropping six days from the date the image was posted. Most recently, Brown was occupied with working on two of BLACKPINK's collaborations with international artists – 'Ice Cream' with Selena Gomez and 'Bet You Wanna' with Cardi B.
Also dropping hints is Grande's long time friend and frequent collaborator, Tayla Parx. The 27-year-old singer-songwriter told Insider that her fellow Nickelodeon alum was making "another evolution" with her new album.
"And we're just going to get to know her even more this time around, which I'm really excited for the world to see. I'm excited for her to tell you guys just more about where her head was at with this project, because it truly is incredible, honestly, and I can't wait for the world to hear it."
Thus far, Grande has been busy with collaborations – releasing ' Stuck With U' alongside Justin Bieber as well as 'Rain on Me' with Lady Gaga. However, the one collaboration we have yet to hear is the one Grande mentioned earlier this year with Doja Cat. When speaking to Apple Music's Zane Lowe, the 27-year-old revealed that she was actually "obsessed" with Doja Cat and that they had worked together on a song.
*Original article posted on the 12th of October at 8:30AM. 
It has now been updated to reflect current headways.