While everyone is still hyped up over the Friends reunion currently airing on HBO Max, let's admit that Ross' famous couch conundrum actually had a pretty simple solution…
https://www.flyfm.com.my/flycelebrity-grab-your-tissues-because-the-new-friends-reunion-trailer-is-a-dream-come-true/
The sixteenth episode of the fifth season, "The One With The Cop" is the one where Ross being Ross, buys a new sofa but opts out of paying the delivery charges because he lives just three blocks away. Rachel got tangled in his extreme frugality and was forced to help him carry the gigantic furniture all the way to his apartment until they bumped into trouble — the stairwell.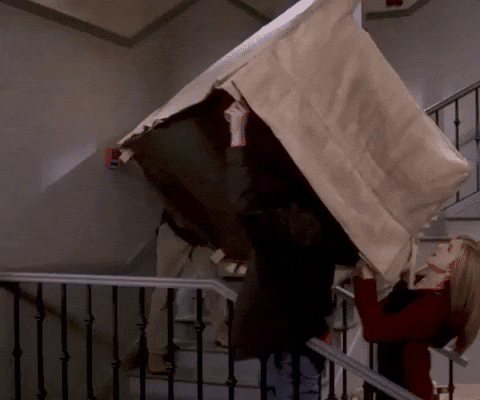 That's when Chandler comes to the rescue…but he couldn't do much to help either. 
The scene where the three struggle to carry the brand new sofa up the stairs while Ross repeatedly screams "PIVOT!" every few seconds easily became one of the most iconic moments of the hit sitcom series. 
But years after the episode aired, Flatshare site SpareRoom as well as data science consultant Caroline Zunckel PhD have used maths to reveal that yes, if only Chandler, Ross and Rachel thought to not only PIVOT, but also TILT the couch, it would have been possible!
Zunckel said, 
"By applying Pythagoras' theorem to the estimated measurements of Ross's sofa in a vertical position and dimensions of the stairwell, I was able to establish that it would have been possible for Ross to get the sofa up the stairwell and into the flat without resorting to the extreme measure of chopping it in half." 
She also added,
"It's quite simple really!"
If only someone had told this to poor Ross, whose sofa broke in two after Rachel accidentally pulled the fire alarm causing panicked neighbours to stampede all over it. He tried to turn things around by attempting to return it, only to receive store credit instead…in the amount of four dollars. 
Anyhoo, who's up for another Friends binge-sesh this weekend? We are!
https://www.flyfm.com.my/flydrama-matthew-perry-posted-quickly-deleted-photo-confirming-friends-reunion/
*Cover image originally via 

Warner Bros. Television