Ryan Reynolds is the King of Clapbacks, Witty Responses and Inuendoes. Heck, he wasn't hired to play Deadpool, Deadpool was made for him to be as authentically himself as he wants to on screen.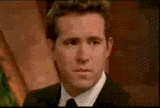 Case in point: this totally inappropriate joke he's decided to make TEN YEARS after his appearance on the kids' show, 'Sesame Street'.
It all started with a fan tweeting screenshots of Reynolds – now a dad of three – in a costume. The costume in question had him appear as the letter "A". The tweet goes:
"Watching a little @sesamestreet with the kiddo, and its an episode with @VancityReynolds and the gang doing an A-Team gag. Its a delight, for both me and the kiddo."
Reynolds happened upon the tweet and declared that his stint on the show as the letter "A" was almost a heroic deed on his part, as while it was a delight for the parent in question to watch, it was a real challenge for him – probably because he kept thinking of "a-h***s".
Twitter had a field day with his response:
It was at that moment that @VancityReynolds knew what it was to be born again.

— THE Antonio Rubin (@AntonioTRubin) January 25, 2021
I'll take "Things you can't say on Sesame Street" for $1000.

— Robin Burcell (@RobinBurcell) January 25, 2021
The speed at which you veer back and forth between filthy and wholesome is delightful.

— Marie Julianna (@MarieJulianna4) January 25, 2021
Obviously, there was nothing inappropriate about his actual appearance on the episode (originally aired on November 5, 2010, for Episode #4225 from Season 41, you're welcome). Instead, we see Reynolds holding back laughter as the voiceover introduces them with:
"If you're angry, or just need some advice, maybe you can ask the A Team,"
We can't decide what's more hilarious: Reynolds trying to hold back his laughter while acting serious or the fact that his face looks like it's being birthed out of the costume.
View this post on Instagram
And it looks like this could be his way of transitioning his character through to kids shows, what with Deadpool confirmed to join the MCU, a historically PG13 universe that is now parked under Disney, the third parent in childhoods around the world. Although, we will have to wait a while for Deadpool to bring his signature brand of wildly inappropriate humour to the franchise, as Reynolds is notably busy this year, with projects like 'The Hitman's Wife's', 'Red Notice' and 'The Adam Project' having had their release dates delayed.